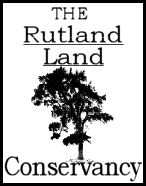 RLC Properties:
The Ferrie-Calkins-Deering Woodland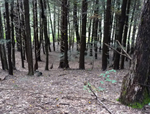 The Rutland Land Conservancy's first property, the Ferrie-Calkins-Deering Woodland, is now open to the public. The property is located on Walnut St., Rutland and all are welcome to explore the marked easy to moderate trails. The property is a wildlife sanctuary and is open for passive recreation only. RLC has created trails that highlight the property's many diverse natural features including intermittent streams, large beech trees, hemlock forest, open fields and moose habitat. We have been fortunate to host a local Boy Scout's Eagle award project to make and install two boardwalks. Map of Ferrie-Calkins-Deering Woodland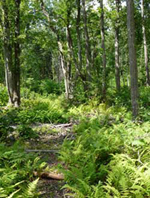 The Woodland is owned by RLC and is protected in perpetuity. A conservation restriction is held by DCR. The 34-acre property was generously donated by Norah Ferrie and her family.

Directions: From Rutland Town Center take Route 56 South 1.2 miles, turn right onto Kenwood Dr. proceed .5 mile, turn left onto Walnut St. continue .4 miles to field entrance on left. Please park on side of road as to not block field access.

Walk along the edge of the field on the right to a blue DCR marker then right into a larger field with white farmhouse. The trail contines on your left along the left side of this field until you reach a cornfield. Walk across the field towards another DCR marker on the opposite side. Bear left and follow this field until you see the entrance to the woodland on your right starting at the boardwalk.
Directions to Ferrie-Calkins-Deering Woodland