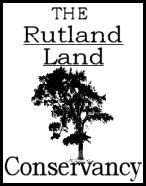 RLC Properties:
Canon-Putnam Nature Preserve
The Rutland Land Conservancy completed the acquisition of the Cannon-Putnam Nature Preserve and now that we've had a bit of a breather, we'd like to get to work on it! The parcel consists of 9.84 acres protected in perpetuity for watershed protection and passive recreation. We have work to do, but eventually the new preserve will be ready for your visits. A sign is in process and will soon be erected to help you locate it, but know that it has frontage on both Main St. to the right of the cemetery and on the corner area of Glenwood Rd. It extends back to the Haines-Smith Farm. It is a diverse woodland with some amazing old trees and a shrub swamp. The parcel is in the Chicopee Watershed. There are two town easements on the property; one for water and one for sewer. These are very old, yet active lines, installed at the time of the Rutland State Sanitarium. This property will allow for quick visits for area residents and is easy walking for young families and seniors. We are looking at the possibility of this property also being ADA compliant, because of its central location and relatively gentle grade. While it would take quite a bit of work for compliancy, for which we'd have to seek funding sources, we feel that this property could be a natural oasis for a multigenerational and multifunctional population

The Ferrie-Calkins Woodland Extension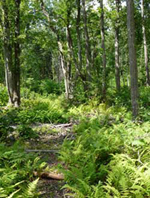 The land trust has recieved an additional gift of an approximately 10-acre parcel, adjacent to the 24-acre Ferrie-Calkins-Deering Woodland.
The new parcel will be conducive to both passive and trail-based recreational activities for the public. Wildlife photography, drawing & painting, nature studies, bird watching, light hiking, cross-country skiing, and snowshoeing would be very appropriate activities for this parcel, as it is on the adjacent Woodland. The field is level, open and picturesque. It is lovely addition to the Woodland, which currently has no real open habitat.
The Ferrie-Calkins-Deering Woodland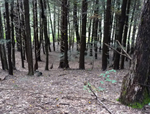 The Rutland Land Conservancy's first property, the Ferrie-Calkins-Deering Woodland, is now open to the public. The property is located on Walnut St., Rutland and all are welcome to explore the marked easy to moderate trails. The property is a wildlife sanctuary and is open for passive recreation only. RLC has created trails that highlight the property's many diverse natural features including intermittent streams, large beech trees, hemlock forest, open fields and moose habitat. We have been fortunate to host a local Boy Scout's Eagle award project to make and install two boardwalks. Map of Ferrie-Calkins-Deering Woodland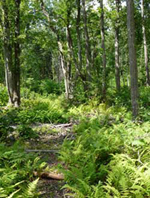 The Woodland is owned by RLC and is protected in perpetuity. A conservation restriction is held by DCR. The 34-acre property was generously donated by Norah Ferrie and her family.

Directions: From Rutland Town Center take Route 56 South 1.2 miles, turn right onto Kenwood Dr. proceed .5 mile, turn left onto Walnut St. continue .4 miles to field entrance on left. Please park on side of road as to not block field access.

Walk along the edge of the field on the right to a blue DCR marker then right into a larger field with white farmhouse. The trail contines on your left along the left side of this field until you reach a cornfield. Walk across the field towards another DCR marker on the opposite side. Bear left and follow this field until you see the entrance to the woodland on your right starting at the boardwalk.
Directions to Ferrie-Calkins-Deering Woodland